Shannon Mortimer
one of us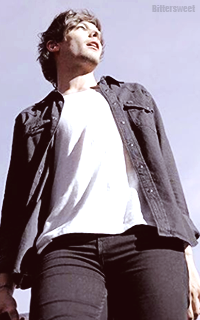 (FACE, ©)

: Louis Tomlinson ©life burns


(PSEUDO)

: Life Burns


(MEETINGS)

: 762


(AGE)

: 24 printemps

READ MY TEA LEAVES
(RPs) : ✘Casey♥
(RELATIONSHIPS):

Sujet: ✘ The fight is 'til the end Mer 14 Oct - 20:18

---

Carter & Cory

Soirée comme tant d'autres quand il ne voit pas Ezekiel, Cory la passe dans les bars de la ville avec ses soi-disant amis. Soi-disant, parce qu'au fond, ils ne connaissent rien réellement de lui, ils ne connaissent pas la vraie personne qui se cache derrière cette apparence de dur. Ils ne savent qu'il est actuellement en couple, ils ne savent que c'est d'un homme dont il est amoureux, ils ne savent pas non plus ce qu'il subit chez lui depuis qu'il est enfant, en vrai, ils ne connaissent tout simplement rien de ce qu'il est vraiment, rien que ce qu'il veut bien montrer, comme son côté autoritaire, sa franchise à toute épreuve. Cory, il parle comme il pense, se fichant éperdument de blesser les personnes à qui il s'adresse. Il a un seuil de tolérance très bas, encore plus lorsqu'il a bu de l'alcool, ce qui lui arrive quand même rarement, ne voulant pas ressembler à son alcoolique de père. Ce qui l'amène à se retrouver très régulièrement au milieu de bagarre dont il est le plus souvent à l'origine. À cause de cela d'ailleurs, il n'est pas forcément très apprécié des gérants de bars et encore moi du personnel y travaillant. Seulement, en bon je m'en foutiste qu'il est, et bien Cory, il n'en a strictement rien à faire et continu de s'y rendre, tout comme il continue de créer des bagarres s'il juge que les gens le cherchent un peu trop.

Ce soir ne déroge pas à la règle. Premier bar, premiers verres, de la bière, rien de trop fort, il compte dans un premier temps rester relativement sobre, mais les esprits s'échauffent rapidement, parce qu'un con à eu la bonne idée d'avancer en marche arrière en regardant ses potes tout en riant pour aller aux toilettes et percuter Cory, lui renversant une petite partie de son verre lui. Le bouclé le chope par le col et le plaque contre le bar. « Tu crois faire quoi là ? Tu ne peux pas regarder où tu vas. Je te préviens, tu me repayes ma bière. », Mais il est tombé sur tout aussi con que lui et l'autre ne se démonte pas face au jeune Morgan, bien au contraire, il le provoque encore plus. Et les deux bandes de potes se retrouvent rapidement au milieu de la bagarre puis excluent du bar en question. Tant pis, changement de décor, changement de bar. Mais là encore, ça dégénère, pour une fois, pas à cause de Cory, mais d'un de ses amis et encore une fois, ils se retrouvent mis dehors. Bon, plus qu'à changer encore une fois de bar, hors de question de rentrer chez eux, la nuit ne fait que commencer. C'est ainsi qu'ils arrivent, passablement déjà éméchés au bar du quartier populaire, bar où ils trainent le plus souvent. Le jeune homme n'est pas encore réellement bourré, mais eu vu de l'avancement de la soirée, il a changé ses plans et décide de passer à du plus corsé que de la bière. « Vodka Coca. » Pas de bonjour. Pas de s'il vous plaît et pas plus de mercis. Il prend son verre, le paye et rejoint ses potes, qui sont déjà en train de mettre leur bordel dans le bar, en voulant à tout prix déloger un groupe de personnes de la table où ils sont, pour prendre leur place. Cory se pointe et étrangement, la table se dépêche de prendre leurs affaires et de libérer la place. Il s'avère que plusieurs d'entre eux ont déjà eu à faire à Cory et ils ne semblent pas avoir envie d'avoir à recommencer.

La soirée avance, Cory ne comprend plus rien n'a ce qu'il se passe. Les soucis qu'ils traversent en ce moment, entre les coups de son père, Little Charlie qui a balancé sa relation avec Zeke, son paternel qui veut l'obliger à se marier avec une femme et maintenant à ça s'ajoute ce que son copain a choppé et qu'il doit lui aussi faire le test pour vérifier s'il l'a attrapé cette merde aussi ou pas, il n'a clairement pas supporté l'alcool qu'il a ingurgité. La fatigue n'aidant pas, pour une fois au lieu de transformer ça en violence totale, ça a fini par le faire s'endormir quelques minutes sur la table où il est installé avec ses amis. Quand il émerge au son d'une voix qu'il ne reconnait pas vraiment, il se rend compte qu'une énième bagarre a éclaté entre ses postes et les mecs avec qui ils se sont battus dans le premier bar. Le bouclé n'intervient pas, il les regarde simplement faire, se dirigeant l'air de rien vers le comptoir. « Une autre vodka coca. » Qu'il demande à la blonde qui l'a servi déjà plus tôt, toujours sans la moindre forme de politesse, sans même la regarder, puisqu'il a les yeux rivés sur la bagarre.

_________________

Δ Sorry seems to be the hardest word

It's sad, so sad. It's a sad, sad situation. And it's getting more and more absurd. It's sad, so sad. Why can't we talk it over? Oh it seems to me, That sorry seems to be the hardest word © signature by anaëlle.